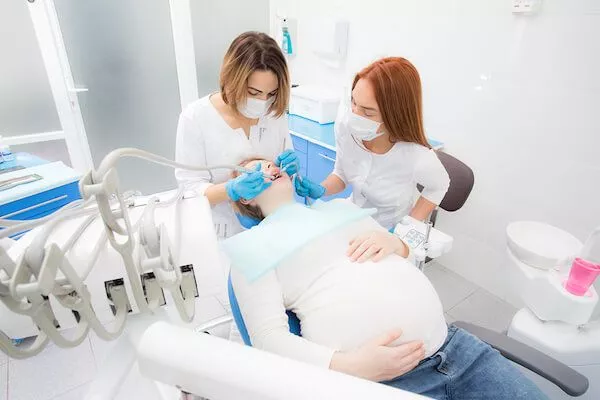 Pregnancy can cause major changes to one's body and oral health. If you're facing the prospect of motherhood within the next few months, it's crucial not to neglect the condition of your teeth and gums throughout the process.
You need not have to halt your current orthodontic treatment or hesitate to begin new orthodontic treatment when with child. Here's what all expecting ladies should know about having braces during pregnancy.
Let your orthodontist know
An orthodontist should be in the know if you are pregnant or planning to get pregnant before proceeding with orthodontic care. This is because it may be necessary to change the approach taken for your treatment. In fact, in most cases, pregnancy can result in a weight gain that may alter the size of a woman's face or mouth.
Even if it does happen, your hygienist or dentist need not make a new mould of your mouth and teeth before making some adjustments to your metal, lingual, Invisalign or clear braces, just to ensure that it fits perfectly. You may also have to make more frequent visits to the orthodontic clinic to have your wires and brackets adjusted as your body physiology continuously changes.
Consult your obstetrician
When considering wearing braces while pregnant, do try and have a discussion with your obstetrician beforehand. This allows all the members of your medical team to be on the same page in their awareness of the care you are receiving.
Staying healthy utilizing vitamins and also other supplements, natural components and also all-natural items is one of the best points people can do for their health, but numerous choose to stay away from such products because of their high expenses. iHerb, however, is at least one shop you can anticipate to always locate a lot at. However while the store may offer superb prices and also regular sales, we provide discount codes that will aid you save even more https://herbcoupon.net/. From price cuts on specific orders to discounts especially for new consumers, our discount coupons for iHerb give you the bargains you need to remain healthy on a budget plan.
X-rays
It usually is for the best to reduce or entirely avoid exposure to even the smallest amount of radiation during pregnancy. Hence, your concern over the radiation that is produced when taking medical images of your teeth is warranted—but rest assured, orthodontists usually have a protective device in place over your abdominal region to prevent any exposure of the radiation to your developing baby. Otherwise, they may try to work around it to help you steer clear of x-rays during your treatment.
Discomfort
Be aware that pregnancy often means increased nerve sensitivity in teeth and gums as a result of hormonal changes and increased blood flow. This heightened sensitivity may bring about more discomfort than usual. You'll also be at a higher risk for developing increased inflammation in the gums if you don't take enough care with your oral hygiene.
For fewer chances of discomfort, opt for Invisalign instead. Removable and nearly invisible, it's the go-to choice for those who desire painless orthodontic treatment. In Singapore, Invisalign braces cost a little more than traditional types, but it's certainly worth the price given how discreet it is.
Appearance
Many pregnant women may get increasingly self-conscious as their bellies begin to expand. Thus, they may decide to shy away from braces when pregnant to refrain from amplifying concerns about appearance and pain. If appearance is a major worry for you, and you're looking for affordable braces that are an alternative to Invisalign, consider clear braces in Singapore that blend in perfectly with the teeth.