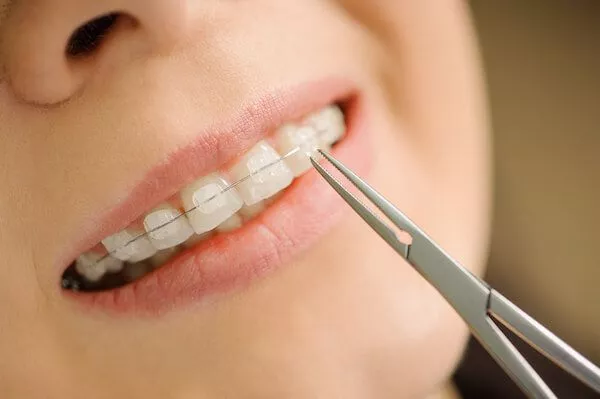 What do you think of when you hear the word 'braces'? If what comes to mind is a teenager student with metal bits seemingly embedded in his/her teeth, then perhaps it's about time for you to find out about the other options available nowadays. Ceramic braces, for instance.
Ceramic braces have been known to be inconspicuous – the exact opposite of metal braces, which are immediately obvious to the eye. But before you go rushing off to the dentist for a set of teeth-coloured/clear braces, here are some things to take note of:
Aesthetics
The main reason people want ceramic braces is simply because they are a lot less noticeable and are much more aesthetically pleasing. The colour of ceramic brackets is usually either clear or customized to the colour of your own teeth so it blends in and looks natural, or to put it in another way, virtually 'invisible'. Additionally, having to wear braces may result in a hit to the self-esteem, particularly for the self-conscious vulnerable individuals, making the option of ceramic braces an especially enticing choice for many.
Price
When compared with other 'invisible' braces like Invisalign or lingual braces, ceramic ones are cheaper by around S$2000 to S$3000. While it does tend to cost a little more than traditional metal braces, people are willing to part with their money for more discreet-looking braces.
Comfort
While it is true for the most part that beauty comes with some pain, who would willingly experience pain that could be avoided? Ceramic braces, the self-ligating ones, feel much more comfortable when worn and do not really irritate the mouth nor cause much ulcers or pain.
Durability
Though ceramic braces are fairly strong, they do tend to chip or break away when subjected to force or after a long duration of time. However, with regular maintenance and proper care, such a situation can be avoided entirely.
Limitations
As compared to the traditional metal braces, ceramic ones are unable to withstand as much torsional force. Thus, for those with bite issues, or those who need severe correction, ceramic braces may not be the best choice. The alignment of teeth may also take a longer period of time as well.
Stains
Although the braces themselves do not stain so easily, the same can't be said when it comes to the elastic ties. The ties can end up discolouring if you frequently consume food or drinks that easily stain the teeth, such as curries and red wine. While your orthodontist is likely to replace the ties on a monthly basis, you might end up having to count down the days to your next visit once it's stained. Therefore, you will probably need to restrict foods and drinks like coffee, tea, curry, soft drinks and coloured candy from your diet.
Summary
Even with the near-invisibility that it provides, ceramic braces are definitely one of the most affordable braces available in the market. It's suitable for those who tend to be self-conscious about their appearance but are hesitant to spend too much on the braces. Added benefits include comfort and less irritation.
While deciding what braces to opt for is essential, choosing a good orthodontist in Singapore to go to for treatment is even more important. An experienced one will be able to tailor dental care to your individual needs and make the treatment process a comfortable and painless process. With ceramic braces, you can look forward to a straighter, brighter set of teeth!