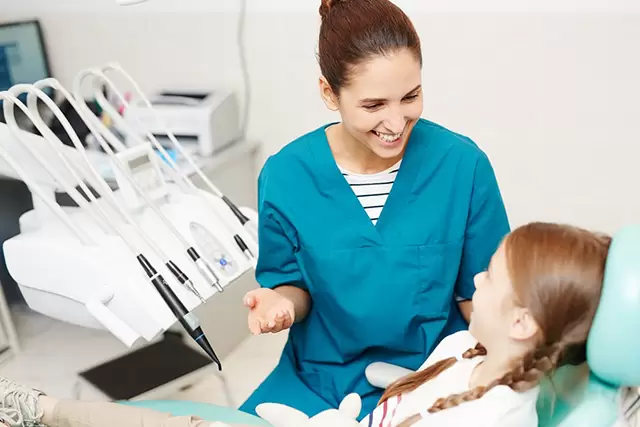 Dentist and orthodontist are two different professions, but with one similarity. We will tell you the conditions for when you need to go to a dentist or when do you need to go to the orthodontist. First of all, let's take a look at the career path to become a dentist or an orthodontist, and their differences.
Dentists
A dentist is a professional who practises dentistry; he may have special interest in particular aspects of dentistry, e.g. in children's dentistry. Someone training to become a dentist in Singapore will need to major in Dentistry at the university. In Singapore, the Faculty of Dentistry at the National University of Singapore offers a full-time course in dentistry leading the degree of Bachelor of Dental Surgery (B.D.S.) upon graduation. Dentists with a recognized BDS degree may begin their practice in general dentistry as dentists after they have registered their qualifications with the Singapore Dental Council. They may have been trained to provide orthodontic care or root canal treatment, but they do not specialise in it.
Orthodontist
Orthodontics is one of nine dental specialities. An orthodontist is a dentist that specialises in the alignment of teeth and jaws, and provides services related to the treatment of crowded teeth, misaligned teeth, overbite and other orthodontic services. To become an orthodontist, a general dentist with a BDS degree needs to undergo another two to three years of study in orthodontics, and apply for specialist registration with the Singapore Dental Council with a recognizable qualification in orthodontics upon satisfactory completion of his studies.
Now that we know the differences between those professions, you should know when you need to go to a dentist or an orthodontist. A general dentist typically encourages good oral hygiene and provides services which are related to caries, gum disease, teeth whitening and other general problems related to your mouth. When you want to have tooth decay treated, you can go to a dentist. You can also visit your regular dentist if you find something wrong within your mouth. But when you want to get ceramic braces or aligners to solve your misaligned teeth, and you want to be treated by a specialist, you need to visit an orthodontist. The orthodontist will help you to get the best smile you have dreamed of.
There are many orthodontists and dentist in Singapore. But how do you choose the best one for your needs? There are a few things you should consider before you schedule an appointment with a dentist or orthodontist. The first thing you need to check is their qualifications and experience. You can ask your friends or family for a recommendation and check their qualifications. The next thing you need to consider it the price. The ceramic braces or Invisalign cost may be expensive; so you can ask about the cost of the services and whether they accept dental health insurance.
The third thing you need to consider is the location and schedule; you can look for a clinic which is close to your house or your workplace. So when you need one, you can visit it after you finish work. Make an appointment with a call when you want to visit the dentist, so you can save time by having a prior booking. The quality of service is also one of many factors you need to consider. A patient and gentle dentist is better if you have sensitive teeth; good communication with your dentist will make you feel more reassured and less anxious. The last thing you need to consider is that when do you need to go to a dental specialist, it has to be the appropriate specialist for your ailment. You can consult a general dentist if you feel uncertain about your condition, for example if you are unsure whether it is a gum or a root canal problem. The dentist will recommend you some good orthodontists in Singapore if they feel you need one.